Roleplay Activities in Language Education
Explore the characteristics of roleplay exercises with Nualang. Discover how they can be used to encourage students to take an active role in the learning process and improve their linguistic skills.
This engaging methodology puts students at the centre of the action, allowing them to learn in a fun and effective way. In this article, we will explore its main features.
What is a roleplay?
The roleplay is a pedagogical activity that involves students interpreting roles or characters in specific situations.
Characteristics of the Roleplay Activity:
1. Active Involvement
The roleplay activity requires students to be actively involved in the conversation and action. Students must play the role of a character or situation, and are challenged to use the language naturally and authentically.
2. Realistic Contextualisation
Roleplay activities often are based on realistic contexts that students may encounter in their daily or professional lives. This allows them to acquire vocabulary, expressions and language skills that are relevant and directly applicable to their real experiences.
3. Creativity and Imagination
Students are encouraged to be creative and use their imagination during the roleplay activities. This promotes the development of critical thinking skills and the ability to adapt to different situations.
4. Empathic Learning
Roleplays require students to put themselves in the shoes of different characters and situations. This promotes empathy and understanding of different cultural perspectives, contributing to more effective communication with native speakers of the language.
5. Change in Linguistic Skills
Roleplays can be adapted to develop different language skills, such as listening, comprehension, speaking and writing.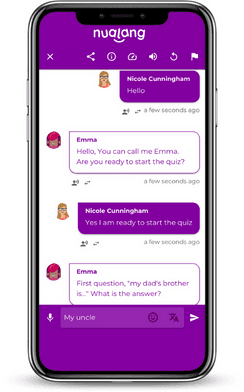 How can Nualang help?
With Nualang, students can participate in roleplay activities developing all linguistic skills: writing, listening, reading and pronunciation. Nualang offers plenty of scaffolded support for these activities. Students can respond via voice, choose characters and dialects, adjust the voice speed, utlise multiple choice, answer comprehension questions, and check their pronunciation score. Roleplays with Nualang are a fun and effective way to bring language learning to life.